Services

Web Design / Development

Platform

WordPress

Date

August, 2019
The
Challenge
It was clear that their existing website was lacking, not only visually, but also in basic usability. This was a major concern for the team at The Great Northern as one critical feature of the website was to provide customers with an interface that would allow them to easily find and access the various brands situated within the site.
Our team of designers were excited to accept the challenge of completely redefining the Great Northern website. We understood changes needed to happen. The new and improved website would need a carefully defined user journey that would provide a seamless experience for customers visiting the leisure complex. This would not only demand a slick front-end for users, but also a simplified admin CMS for the marketing team to interact with the website, keeping it updated with relevant news and promotional offers.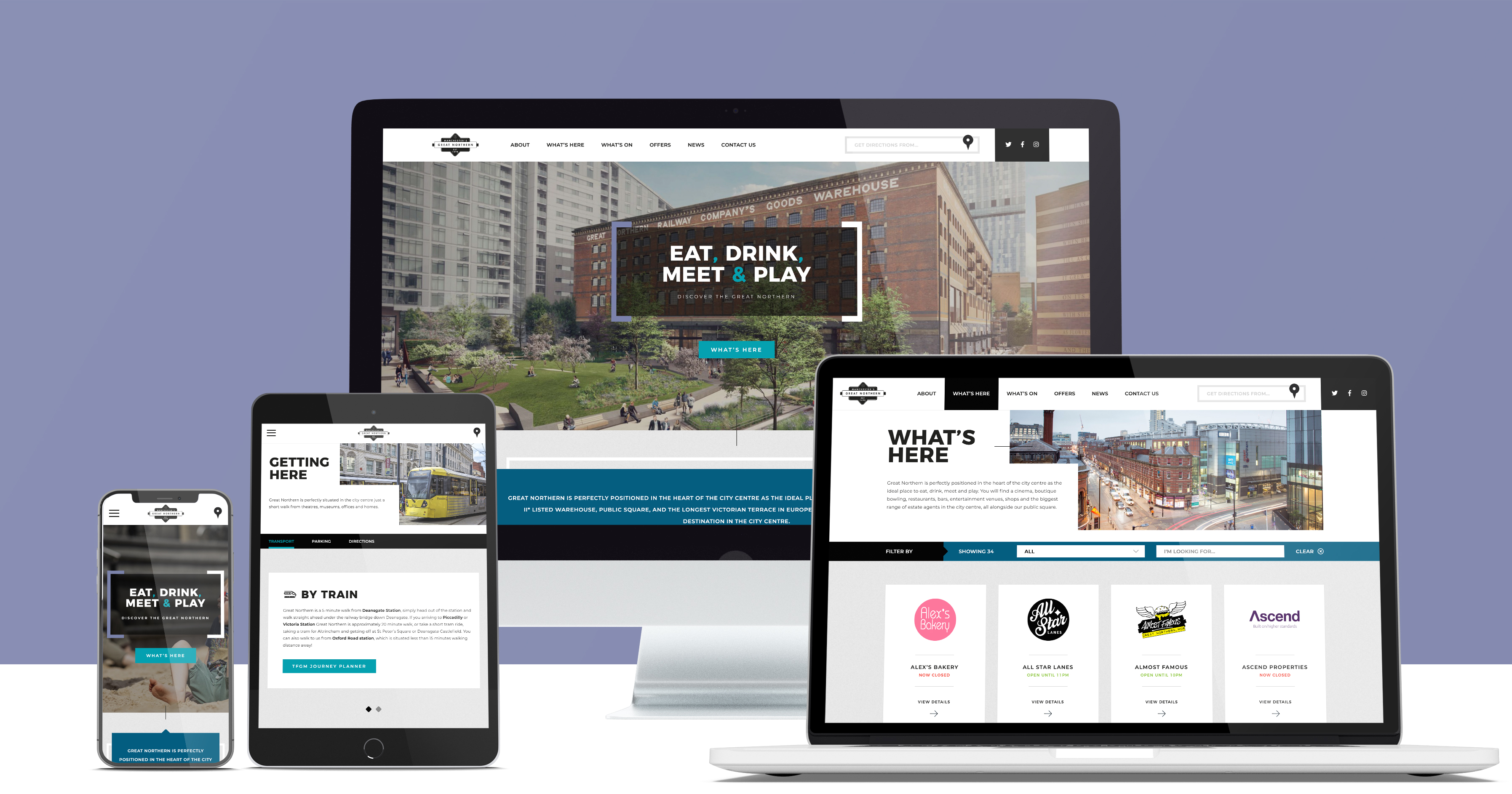 The
Solution
Before jumping into any design work, we scrutinized the project brief and started to draw up some ideas. A fair few post it notes were sacrificed during this process. With our homework done, we took a heads-on approach to completely remodel the website, following newly establish brand guidelines.
We had devised a sitemap which would redefine the way users would interactive with the website and discover relevant information. Using latest illustrations, we replaced the previous interactive map, making it easy for users to locate their destination on any device.
Opening times, travel information and general details surrounding the leisure complex were all sectioned into clearly defined pages across the website. Using modern development methods, we were able to deliver this to users at exceptionally fast speeds... providing the best user experience possible.
Powered by Wordpress CMS

Google Directions & Geolocation

Newsletter CRM Integration
A
Captivating


Visual Identity

- Typography
- Key UI Components
Oliver and team did a great job of creating a new, improved website for The Great Northern. They spent time to look at improving the user journey, to completely refresh the design and gave good advice throughout. I've always hated creating websites as it's always such hard work, but working with Zen was such a different experience; nothing was too much trouble, attention to detail was great and they delivered all that I asked for well within budget. Would definitely recommend.
- Emma James, Marketing
Inspired?
Work with us
Discuss a project.
We offer creative, flexible and affordable website solutions for all businesses, big or small.
Get in touch with our friendly team of digital experts to see how we can help transform your website.
Get in touch